Before beginning this blog, I wanted to peek at my classmate's blogs to see who/what they have picked as a positive note to end on.  I have a feeling that my positive may be a bit different, but it is a direction that I am headed in for the fall and have already begun moving towards by procuring equipment, etc.
I found Krista's post extremely well representative of my views regarding the iPad roll in L.A. and how "unplanned" it was.  I found myself shaking my head at the county not thinking that their students could not bypass the security systems they have set out – come on – you are have just handed these out to high school students who are digital natives!  The programs to block all unwanted materials viewed were not developed by digital natives, rather digital immigrants.  A native is going to find their way around the system much, much faster.  I also wondered why YouTube???  But, I can understand why we just use it for so much currently like uploading vlogs, etc… that my students have created during PBL and Innovative Deeper learning.
Going back to my first paragraph, I am a big proponent of Virtual Reality in the classroom.  This could be because of the subject I teach – it really lends itself well to science at all levels.  I found Scott's and Adam's blogs to be quite interesting as they showcased all levels of VR that can be used in the classroom.  I will let you pop over to their sites to read about the difference between each as there is no sense in re-writing what has already been done so well.
Instead, I will focus on the benefits of VR in the classroom and explain the experience that led me to bring this into my class.  However, I am only one teacher, and I feel that many teachers could benefit from the use of VR in their classrooms.  Ashley McCann elaborated on how the immersive nature of virtual reality can enhance our students learning.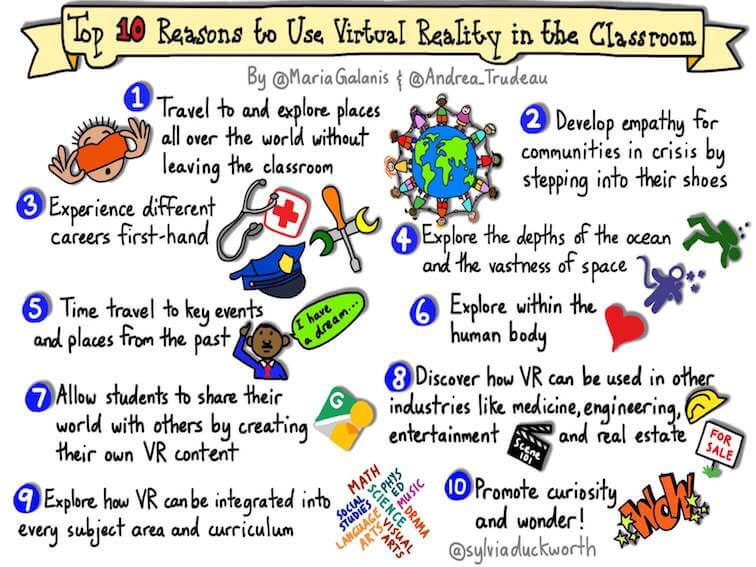 I believe that there is a place in education for gamification and that VR can help bring together problem-solving, deeper learning and gamification into one package while allowing students to be curious.  Using a game based system can give students who need immediate feedback to keep them on track engaged (such as earning badges, etc…).   It also has the ability to take students places that we would never, as educators are able to take them by opening up the world to digital field trips or investigations that would be too costly to explore or simply unavailable such as layers of the body systems.
I have had the experience of using VR at the University of Saskatoon during Science on Stage Canada, 2018.  I met Dr. Sean Maw who is a professor at the College of Engineering.  He is using VR in one of his first year engineering classes to have his students build a bridge that will be able to handle a truck carrying a force across it (you can increase the weight of your truck the more confident you are – Newtons).  I was so captivated by this experience that I visited Innovation Place in September to discuss the possibility of bringing this technology into my classroom – but to use it in a bit of a different way.  Besides being able to build bridges, etc… I want my students to build the chassis of a car and then have another program (not developed yet) send the design to our 3D printers.  The idea is that the students can build, test and walk around their cars first before during the creative process, then send it to be physically built, tested, and ran against others.  I have begun to collect equipment, we will see how long it takes my dream to become a reality.  I have a number of students who would benefit greatly from this and I feel that it would level the playing field in my room, meaning that inclusivity may be achieved through the use of this tool.  Would this tool entice our poor attendees to come to school more often? Will VR allow for all types of learners?  Kinesthetic, Visual, Spatial, Aural? I feel that my creative leadership style lends itself well towards using VR.  Have a look at the following video and see what you think – are you hooked?
Note – I did get to experience space in VR – it was UNREAL!!!
Take a look at the difference it made in a school in Tennessee.
Let me know what you think!  I would love to hear your feedback as I learn from everyone and there are many of you who have already ventured where I intend to go.